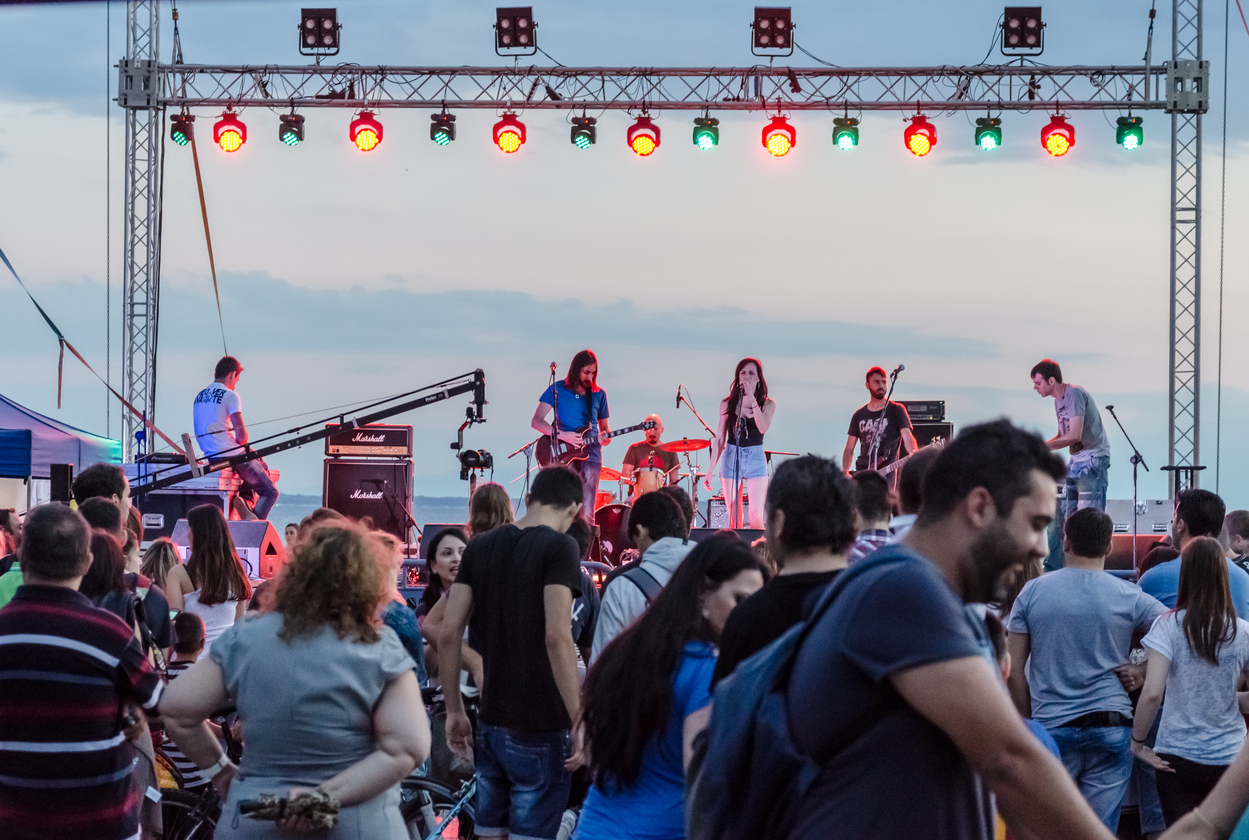 Booking concerts can be the money makers for your career and a concert can mean many different things to different artists. There are concerts for all types of musicians and each venue holds a special place in your climb to the top.
At each stage of your music career, you will need to be booking concerts. You need to understand the value of every type of concert and take advantage of the benefits they offer. Even when you become a mega-star musician, concerts need to be a part of your career. Having someone to represent you as an artist is one way to take complete control over booking concerts.
Not only can you make money, but booking concerts can boost your career in many other ways.
Keep reading to find out the distinct types of concerts and the importance of booking each type to make your music career successful.
Booking Concerts at Dive Bars
You may be just starting out in the music business. A concert for your band may be at that local, seedy, back alley dive bar. You charge a cover fee and make a few hundred dollars each night. You even sell your CD's and merchandise created in your basement.
This type of concert is awesome! Enjoy it while you can.
You don't have the pressures of the big time just yet, but you may be on the brink of reaching success. It's in these local dives that talent reps can find you. It's where you start building your loyal fanbase.
Treat these fans well and they will help you grow. They have friends just waiting to be your fan. Even if just a few people show up for your concerts at first, rock it out like you are on stage with your music idol.

County Fair Concerts
Your name is out there. Your fanbase is growing. So much so that you have been invited to perform at the County Fair. This is huge! This is an opportunity to showcase your talents to all the naysayers in the area, and attract new fans, and music scouts.
Plus, you will make a lot more money than just the few hundred you made at the back alley dive last week. And you can sell even more of your handmade merchandise, bringing in even more cash.
Research your favorite musicians. Many of them will tell you they paid their dues by performing at County Fairs. Some may call them rodeos, others may call them street shows or local festivals. The point is, all famous musicians started by booking concerts at small gigs.
The ones that become big time talent are the ones that said yes to every opportunity to show off their skills.
Music Festival Concerts
You have been paying your dues and it is working. Your entertainment booking agent gets you in to play at a music festival, with other recognized bands. You are psyched, and you should be. This is your chance to impress thousands of fans, even if they are not yours just yet.
You can also impress other, more famous, bands. If they like your performance, they may ask you to go on tour with them or at least open for them occasionally.
If you are a hip hop artist and Wiz Khalifa is performing at the same festival, this means his representatives will be there too. Give the performance of a lifetime, wow the fans, and the right game changers will notice.
And best of all, you will make more money at a music festival than you have made in all your career so far. Sure, you must share that money with other bands, but a small percentage of a million is better than a hundred percent of nothing.
Your merchandise will be in much bigger demand. Festival goers love supporting the up and coming bands. You can expand from tee shirts to cups, mugs, caps, lighters and other products with your brand.
The recognition you will receive is priceless. It could be a stepping stone for booking concerts at even bigger venues, like international festivals and stadiums.

Stadium Concerts
Performing at a stadium means you scored the agents, representative, or tour managers and are building your posse. This is so cool. You are still on the rise but are still in shock that you have made it this far. Let me just say, you are a star.
Stadium shows mean thousands of people. A concert like this is going to make you rich. At stadium concerts, your mass marketed merchandise will sell out and make you just as much money, if not more, than the percentage of the tickets.
Yes, you have more employees now, but your staff is taking you to levels you dreamed about while playing in your mama's kitchen to her and all her friends.
Stadium concerts show the world and big-time record labels that you are worth it. They take notice and getting signed to a label becomes easier and easier. When booking concerts in stadiums, the more seats you fill, the more you convince a big label to take a chance on you.
To them, more seats filled equals more money for them. It's a business. And booking concerts at this level are evidence that you have what it takes.
Specialty Concerts
Another performance, and one of the most important concerts of your life, will not take place in front of thousands of people. It will take place in a Music Label's boardroom. This type of concert is not given often, but can be the difference between a contract or a rejection.
Specialty Concerts will come in many forms. For some it will be at the Grand Ole Opry. For others it's at a VIP party for a multi-millionaire. You may even be asked to perform at weddings, house parties or birthday parties for the super-rich. For others, it may just be famous bars in famous locations owned by famous people.
Whatever the location, booking concerts is important for your career, at every stage of your career. It can even lead you back to where it all began, performing a concert in your hometown. Only now, you are the hero your town has needed for a while.